Singles50⭐️Review, Prices, Experiences 2023
Is Singles50 THE dating site for singles over 50? How much does Singles50.com cost? Are there any discounts or special offers? What is free with Singles50? How good are the Singles50 app and the customer service? How convinced are the members of Singles50? Are there alternatives for the 50+ generation? All the answers to these questions, information worth knowing and our expert evaluation can be found here in the current Singles50 review!

Last update: December 2023
What is Singles50?
Singles50 was launched by the creators of be2. The result is a dating platform for the over-50 generation that values style, class and sophistication. What be2 is for online daters up to 40, Singles50 is for singles over 50 looking for a partner.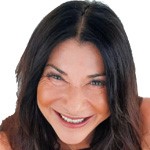 Petra Frömsdorf
Expert since 2003
Special moments together for 50+
Singles50.com is also gaining momentum in the U.S. and can now score with over 1 million active members.
The Singles50 success in numbers
Singles50.com is a thoroughly up-and-coming dating site for people over 50. These figures speak for themselves:
44% of Singles50 members have dates.
22% of members fall in love.
The Singles50 principle
The aim of the creators of Singles50.com is to bring together the target group of singles over 50 looking for a partner on their own sitel. The 50+ generation is "among themselves" here, so to speak.
In contrast to younger people, all of whom are so-called digital natives (people who have grown up with computers and the Internet and intuitively know how to use them), some single women and single men over 50 do not yet feel so confident on the online dating scene. Often, the way of communication with many abbreviations and emojis is still foreign to them.
That's why these singles feel particularly comfortable on Singles50.com. They are among themselves in terms of age and education level.
The Singles50 platform is a classic dating agency that works as follows:
The Singles50 matching in four steps:
You complete the scientifically based personality test. This takes about 15 minutes. Since you can only correct a few details afterwards, we recommend that you plan some time and rest for this. Afterwards, you can take your time to complete your profile.
The actual matching is done by the algorithm. It uses the information provided by the individual singles to calculate who might be a good match for each other.
Now the system suggests the best matching candidates to you.
Now it's your turn and you have to filter out the ones that appeal to you the most from the contact suggestions.
Is Singles50 serious and safe? Fake profiles or real singles?
The operators of the dating platform Singles50 place increased importance on ensuring that their members can date safely and anonymously. That is why they have taken some security measures. Although they have enough data available for the personality test, they still offer their members the greatest possible degree of anonymity.
Fake profiles also hardly stand a chance here. Because:
AI (artificial intelligence) and highly efficient filters sort out unwanted profiles and messages.
Only paying members can communicate fully, which keeps many scammers away.
Suspicious profiles can and should be reported by Singles50 members.

Singles50.com is a new competitor for eHarmony in the U.S. It´s growing fast and its customer service is great.
---
How Singles50 works
The registration at Singles50
Registering with Singles50.com is very easy. On the homepage, you enter your gender and that of your potential partner. A chat window opens and your virtual assistant Susan welcomes you and wants to help you create a profile for your partner search.
This means you are already at the beginning of the personality test. Once you have gone through all the questions, you enter your email address and a password. You will immediately receive an email and confirm your registration there.
The Singles50 login for members
If you already have an account, you can log in directly to the website by using the login button at the top right and entering the password you have created.
Five steps to your dream partner at Singles50:
You complete a personality test lasting about 15 minutes.
You give an assessment of yourself.
You create a convincing Singles50 profile.
You can make contact or be contacted.
You receive new proposals every day.
The Singles50 personality test
In the Singles50.com test, you will be asked questions in the chat about yourself but also about your dream partner.
Here is a selection of questions that the personal assistant Susan will confront you with:
What ist your first name?
When is your birthday?
Where does your partner live ideally? (City or postal code)
Is it easy for you to choose a new partner? (2 answers to choose from)
What interests you the most when getting to know someone new? (2 answers to choose from)
Which traits are most important to you in a partner? (15 answers to choose from)
How old should your partner be? (from...to)
How tall should your partner be? (from...to)
Which figure should your partner have? (4 answers to choose from)
Which lifestyle should your partner have? Education (6 answers to choose from), smoking habits (4 answers to choose from), drinking habits (4 answers to choose from)
Are you open with your feelings? (3 answers to choose from)
Do you seek advice from your friends and family when choosing a partner?

(2 answers to choose from)
Which traits would you say you have? Try to be honest. (16 answers to choose from)
I would like to learn more about your lifestyle and your appearance. Hair (6 answers to choose from), eyes (5 answers to choose from), height, body type (3 answers to choose from), smoking habits (4 answers to choose from), drinking habits (4 answers to choose from), children (3 answers to choose from)
Tell me about your background. Education (6 answers to choose from), yearly income (6 answers to choose from), My job is:
You should take your time for the Singles50.com personality test and answer the questions carefully. Questions about your characteristics and the desired characteristics of your dream partner can not be corrected later.
Contrary to other statements, however, we have found: You can also edit some of the information in your profile. If, for example, you change your profession or your figure has changed, no problem! You can adjust these details at any time.
The Singles50 matching - the formula for love
The Singles50 matching algorithm takes into account all the information you provided in the personality test and all the information in your profile. You can find out how well you match with other Singles50 singles by going to their profile.
There is a "Profile" tab and a "Matching" tab. Under Profile you can see how many similarities you and the Singles50 member you clicked on have. The "Matching" tab tells you everything about your match.
Under "more details about your compatibility" you can see exactly how close you are on the points of reason, tradition, distance, and observation. This compatibility is expressed in a point value. In our experience, a very good score is between 120 and 140 points.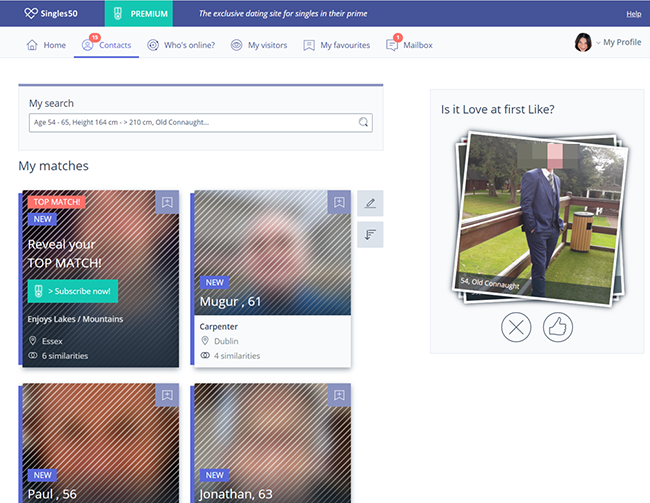 ---
Advantages & Disadvantages
the most popular dating siet for the 50+ generation
very good success rate
an excellent personality test promises suitable contact suggestions
sophisticated audience that knows what it wants
discreet & anonymous
contact guarantee for premium members
getting to know each other is also possible via video chat
people under 40 are not allowed to register
you won't find many non-binding flirts here
nothing for lovers of "picture galleries" to click through
the design of the profile takes quite a lot of time
---
Who is Singles50 suitable for?
Singles50 is the new star in the online dating sky for singles 50 plus. The target group is of course single women and single men over 50, but many singles 40+ also feel more comfortable in the Singles50 community than on a dating platform that caters to all age groups. We have compiled some helpful info about the members here.
What are Singles50.com singles looking for?
Singles50 is clearly aimed at singles over 50 who are serious about finding a life partner. Those who are only looking for discreet dates are not necessarily at the right address here.
This means that the singles you meet at Singles50 are pre-sorted, so to speak - there are very few singles with dubious intentions.
Good for your purpose?
Good for your age group?

Life partner

Flirt & Date

Intimate encounters

18-25 years

25-50 years

Over 50 years
Age structure of the members
The Singles50 average age for women is 54, for men 61.
As with all U.S. dating sites, there is a slight surplus of women here.
Educational level of members
Compared to most other over-50 dating sites, the educational level of Singles50 members is significantly higher. The members attach great importance to high-level conversations and a certain level of education. This is clearly communicated on the site. You will find a homogeneous member structure in terms of education.
---
Singles50 Experiences & Rating
| | |
| --- | --- |
| Sufficient members? | |
| Profile quality: | |
| Flirt-Action: | |
| Arrange real dates: | |
| Service: | |
| Fairness: | |
| Customer support: | |
---
Singles50 in Practice
Let's assume you have already registered with Singles50. Then you will find the following on your screen: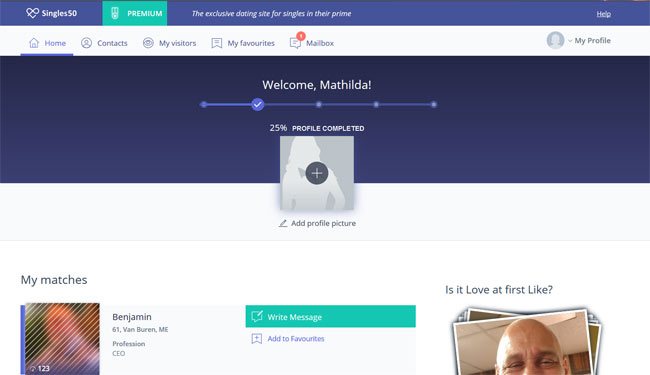 Your Singles50 profile
Singles50 offers its members a lot of possibilities for individualising their profiles.
Apart from general information, you can provide answers to questions on a wide variety of topics such as leisure time, hobbies, cinema, music, personal goals, etc.
We have found that A well-filled profile greatly increases the chances of a successful contact. All the information you provide in your profile and all the information from your personality test have an influence on the so-called matching. This means how well you match another person and vice versa.
This matching is expressed in points. A high matching score means that you and the other Singles50 single could harmonize very well.
Members who visit your profile have the choice between two tabs, "Matching" and "Profile". Under "Profile" you will find all the information that the member entered in the personality test. Things get interesting in "Matching". Here you can find matches between the profile information and the personality test. A high score promises a high degree of partnership potential.
Private remains private:
Singles50 members without their own photos will only see your profile picture blurred.
Your last name and contact details are not visible.
Sensitive data that you have entered in the personality test are included in the matching, but otherwise remain strictly private.
Put at least one photo online at Singles50!
The other singles can only see the picture if they are also Premium Members and you put a tick under your profile photo (All women/men can see my profile photo). Only 3% of Singles50 members respond to profiles without a picture. With a photo, your chances of receiving responses increase enormously; according to the operator, you will receive up to ten times more personal messages.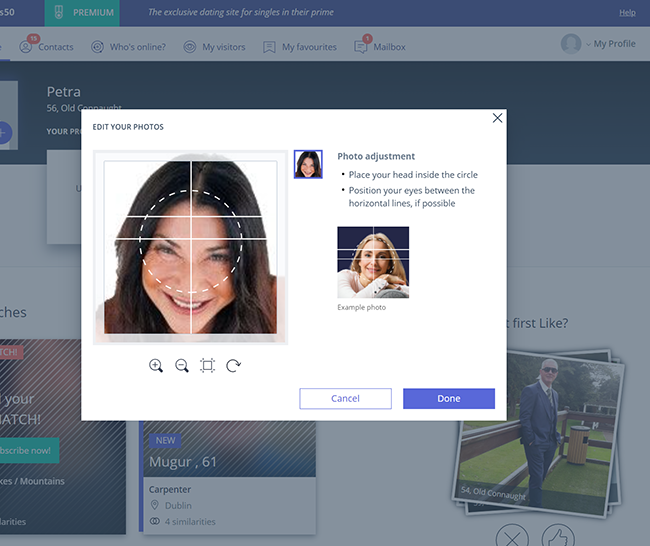 Invest time and effort in your Singles50 profile!
A great and complete profile is the basis for more and above all better contacts.
How to make contact
The Singles50 dating site attaches great importance to making it as easy as possible for you to make contact on the platform. You will receive contact suggestions which, after evaluation of the personality tests, have great potential in terms of relationships.
If you would like to get in touch with one of the suggested Singles50 members, the following features are available to you:
send a hello
you can answer three icebreaker questions
you can like the profile of the suggested members
you write directly to the member yourself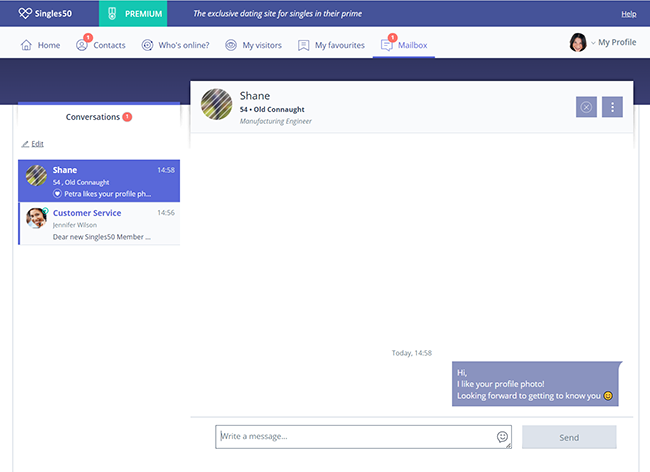 Unfortunately, contacting as a basic member is very limited. For example, it is not possible to write to members directly. If you want to get in touch with the contact suggestions in the long term, a Singles50 membership is indispensable.
The Singles50 video call
... is the modern way of getting to know each other. Singles50 members like to use the video date option. This way you can find out if the chemistry is right before the first real date.
Good to know: With Singles50 Video Date you do not have to reveal your phone number. The Video call button is directly available on your profile. After activating the camera and microphone, you can experience a virtual date with your contact if he or she is online at the same time.
Our advice:
Why not arrange a relaxed video date before you venture out on a real date?
The Singles50 App for mobile flirting on the go
Those who prefer to go mobile in their search for a partner can use the Singles50 app. The app is available for both Apple and Android devices and can be downloaded for free from the Apple App Store or iTunes for iOS or the Google Play Store for Android.
This way you are independent and do not miss any activities on your dating profile even when you are on the move.
On your smartphone you can call up and operate all the functions that are available to you on the website.
Our advice:
Please compare the prices for memberships presented to you on the website with those in the app. We have noticed a steep price difference many times.
Additional functions with Singles50
We liked these functions particularly:
Is it love at first like? Every day, three profiles à la Tinder are sent to you. You either like it or you don't.

The first step: Right when you register, you select a question that is automatically sent to your contact suggestions. You are sure to get some answers to it!
---
Singles50 Experiences
Singles50 is a great dating site for singles over 50, as most of the members agree. The singles over 50 are happy that they have their "own dating room" there and do not have to compete with much younger people.
Of course, singles50.com also works with the latest technology. The overall concept is state-of-the-art.
It is nice that the platform can be used on all media, i.e. PC, smartphone, and app.
Experiences pro Singles50
Singles50 is a safe, reputable dating site.
The website is clearly structured and easy to use, especially for the 50+ generation.
Registration, personality test, and establishing contact are self-explanatory and easy to carry out.
Singles50 also offers a contact guarantee.
You will hardly find any fakes or inactive profiles on Singles50.
Singles50 members are looking for a serious partnership.
Experiences con Singles50
In fact, we found a few points that could speak against Singles50:
Due to the age limit Singles50 does not have such a large member base.
Some members did not like the fact that Singles50.com does not offer telephone support.
---
What's Free at Singles50?
Create a profile
Personality test
Search on your own
Receive suggestions
View photos (limited)
Send a "hello"
Send mails (limited)
Read mails
---
Singles50 Fees 2023
These are the current prices for a Singles50 Premium Membership in the U.S. (standard rates):
Duration
Cost per month
In total
1 month
Premium
$

59.99

$59.99
3 months
Premium
$

39.99

$119.97
6 months
Premium
$

19.99

$239.88
Superb contacts guarantee!
If you don't receive at least 10 genuine contacts, your premium membership will be extended, free of charge.
---
Singles50 Alternatives
---
Singles50 Test Result
Singles50 passed our test with flying colours. We had a lot of fun testing it and can recommend the platform with a clear conscience.
Singles50 Facts and figures 2023
Active members
2,200,000
Male to female ratio
47 : 53
Average age
57
Membership level
very high
Intention
life partner search
Chances for success
very good
Starting price
USD 19.99
Address
be2 S.à.r.l., 13 rue du Commerce, L1351-Luxemburg
E-mail
customerservice@singles50.com
Our test could confirm: THE dating site for sophisticated singles over 50 is Singles50.
---
FAQ Singles50
Do you still have an unanswered question about Singles50?
Here are our questions and answers about Singles50.com:
What payment options are available at Singles50?
Singles50 accepts all common payment methods such as direct debit, credit card, and PayPal.
Can I cancel Singles50 at any time?
Yes, you can cancel Singles50 at any time, but from 14 days after completing your membership, taking into account the cancellation period.
How can I cancel Singles50?
30sDating can be cancelled at any time. To request cancellation, fill out the form on the Singles50 website.
Can you revoke Singles50?
Yes, this is possible without further ado. You can revoke your contract up to 14 days after signing without giving any reason. All you need to do is send a short text message by letter or e-mail.
How can I switch off email notifications from Singles50?
If you do not wish to receive email notifications about new matches, you can deactivate the email notifications in your profile settings. Don't forget to save the changes so that your preferences are updated.
How can I delete my profile on Singles50?
You can easily delete your profile in the "Profile settings".
How can I report a profile on Singles50?
You can actively help to protect yourself and other members by reporting suspicious users. To do this, go to their profile and click on "Report member". The Singles50 service team will check the behaviour of the user in question and, if necessary, block them or continue to monitor them. You can also send an e-mail to the Singles50 customer service team.
---
| | |
| --- | --- |
| | Petra Frömsdorf |
---